Ed Hill
Director of Athletics & Football Coach
Email: ehill@jpiichs.org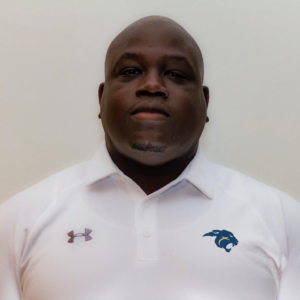 Coach Hill is a Tallahassee native and played football at Godby High School. Since then, he has coached for over 20 years with various youth programs, starting the very first Pop Warner tackle football team in Tallahassee. He has served as a coach, Football Commissioner, and VP of the organization for several years. He has also spent time coaching and assisting various middle and high school programs.
Coach Hill runs a non-profit youth sports program called GameTimePrep, an organization he started three years ago to assist student athletes in identifying a college program where they can play sports at a collegiate level. The athletes participate in competitive tournaments around the state, go to college visits, and are provided resources to help them plan for their future. GameTimePrep has helped Athletes in North Florida and South Georgia earn over $1.2 million in scholarships to date.
Very much a family man, Coach Hill is married to his High School sweetheart Nicole and together they have three children. Their oldest son Isaiah received a degree in Finance from FIU where he played football and had a football scholarship. Daughter Alexus is SJPII Alumni and is currently an Education Major at UCF. Youngest son, Bryson is currently enrolled right here at SJPII.